Network Carrier Domestic Revenue Increase – Price and Volume Drivers, Q2 2016/Q2 2017
Special Feature - Airline Economic Analysis 2018
Each of the five major drivers provided a positive contribution to the $1.2 billion increase in revenue for the network carriers' US operations through second quarter 2017. But what is apparent in our analysis of the network carriers' domestic revenue performance is the clear strategic focus they maintained on increasing passenger yield. Year-over-year, the group increased average passenger yield by 4.1 percent, or 0.6 cent per passenger mile, resulting in additional revenue of $614 million. The increase in passenger yield accounted for 53 percent of the network players' change in revenue on domestic travel.

The above analysis is an excerpt from the 2018 Airline Economic Analysis.
Airline Economic Analysis 2018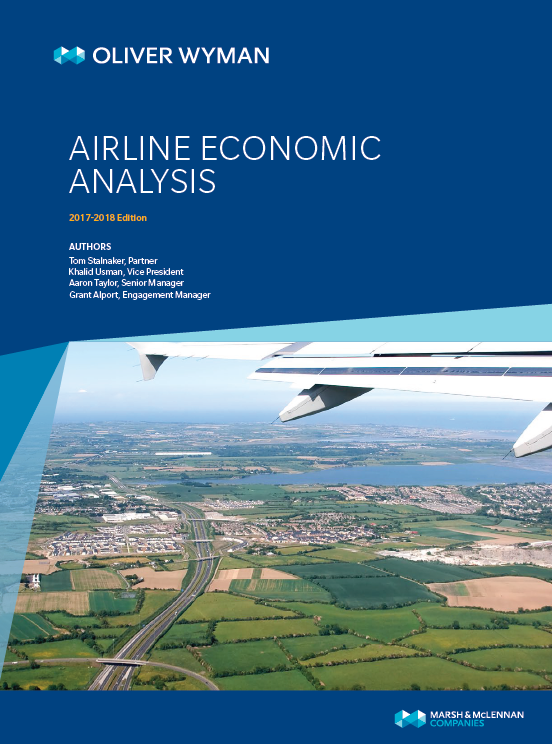 After 17 straight profitable quarters, airlines based in the United States can be expected to keep the winning streak going in 2018 and beyond. Even as the industry's two largest operating costs – fuel and labor – edge up, a combination of persistent demand for air travel that's outpacing the overall economic growth and newfound discipline on adding capacity is keeping network and value carriers in the black.

A return to growth in passenger yield – the measure of the average fare paid per mile per passenger – is an example of the industry's enduring strength. After years in decline, year-over-year yield rose 2.3 percent in second quarter 2017, driven primarily by network carriers' capacity restraint. Passenger yield fell 13.4 percent from 2014 through 2016, hitting a year-over-year quarterly low in third quarter 2016 of 13.4 cents. The systemwide yield by second quarter 2017 was 13.9 cents.

In fact, in 2017 yield became the second biggest contributor, after new capacity, to revenue gains for US airlines – particularly for the network carriers' domestic operations. For those players, the key to staying profitable has been resisting competitive pressures to add capacity. While many value airlines still make their money and gain market share by adding routes and expanding available seat miles (ASM), their network rivals have learned that following them down that path leads to lower unit revenue.

As a result, a cultural gap has developed between network airlines and some of the more aggressive value players, based on the strikingly different ways the two operate and yet remain profitable in the face of rising operating costs. Straddling that great divide are carriers like Southwest and JetBlue, which judiciously add capacity while keeping an eagle eye on yield.

About the Report
In its 9th year, the 75-page report covers a range of aviation-specific industry data, including: CASM/RASM comparisons, stage-length adjusted and long-term trends, fuel prices, break-even load factors, and ancillary revenues. It also includes global capacity growth by region and world trend hot topics.

The report includes analyses on:
Revenue per available seat mile (RASM)
Passenger yield
Ancillary revenue
Stage-length adjusted revenue per available seat
Cost per available seat mile (CASM)
Labor cost
Jet fuel costs and labor costs
Profit margin data
Break-even load factors
US carrier capacity analysis
World Hot Topics
Go To Report
Related Oliver Wyman Insights
Go to the Archives

PlaneStats.com by Oliver Wyman brings together reliable aviation data and a powerful collection of analytical tools that you can use to develop tangible insights.
PlaneStats.com
Oliver Wyman
Current Spot Fuel Price
| Date | Price |
| --- | --- |
| 2015-01-14 | 1.475 |
| 2015-01-15 | 1.451 |
| 2015-01-16 | 1.507 |
| 2015-01-20 | 1.478 |
| 2015-01-21 | 1.474 |
| 2015-01-22 | 1.486 |
| 2015-01-23 | 1.503 |
| 2015-01-26 | 1.497 |
| 2015-01-28 | 1.48 |
| 2015-01-29 | 1.474 |
| 2015-01-30 | 1.539 |
| 2015-02-02 | 1.647 |
| 2015-02-03 | 1.709 |
| 2015-02-04 | 1.653 |
| 2015-02-05 | 1.675 |
| 2015-02-06 | 1.714 |
| 2015-02-09 | 1.754 |
| 2015-02-10 | 1.712 |
| 2015-02-11 | 1.703 |
| 2015-02-12 | 1.8 |
| 2015-02-13 | 1.855 |
| 2015-02-17 | 1.788 |
| 2015-02-18 | 1.787 |
| 2015-02-19 | 1.754 |
| 2015-02-20 | 1.891 |
| 2015-02-23 | 1.844 |
| 2015-02-25 | 1.824 |
| 2015-02-26 | 1.889 |
| 2015-02-27 | 1.815 |
| 2015-03-02 | 1.726 |
| 2015-03-04 | 1.746 |
| 2015-03-05 | 1.747 |
| 2015-03-06 | 1.743 |
| 2015-03-09 | 1.699 |
| 2015-03-10 | 1.675 |
| 2015-03-11 | 1.66 |
| 2015-03-12 | 1.626 |
| 2015-03-13 | 1.561 |
| 2015-03-16 | 1.554 |
| 2015-03-17 | 1.536 |
| 2015-03-18 | 1.629 |
| 2015-03-19 | 1.563 |
| 2015-03-20 | 1.566 |
| 2015-03-23 | 1.566 |
| 2015-03-24 | 1.539 |
| 2015-03-25 | 1.554 |
| 2015-03-26 | 1.623 |
| 2015-03-27 | 1.563 |
| 2015-03-30 | 1.591 |
| 2015-03-31 | 1.567 |
| 2015-04-01 | 1.598 |
| 2015-04-02 | 1.544 |
| 2015-04-03 | 1.544 |
| 2015-04-06 | 1.614 |
| 2015-04-08 | 1.568 |
| 2015-04-09 | 1.603 |
| 2015-04-10 | 1.639 |
| 2015-04-13 | 1.655 |
| 2015-04-15 | 1.747 |
| 2015-04-16 | 1.777 |
| 2015-04-17 | 1.76 |
| 2015-04-20 | 1.741 |
| 2015-04-21 | 1.719 |
| 2015-04-23 | 1.779 |
| 2015-04-24 | 1.777 |
| 2015-04-27 | 1.764 |
| 2015-04-28 | 1.774 |
| 2015-04-29 | 1.796 |
| 2015-04-30 | 1.835 |
| 2015-05-01 | 1.86 |
| 2015-05-04 | 1.867 |
| 2015-05-06 | 1.904 |
| 2015-05-07 | 1.865 |
| 2015-05-08 | 1.86 |
| 2015-05-11 | 1.855 |
| 2015-05-12 | 1.883 |
| 2015-05-13 | 1.889 |
| 2015-05-14 | 1.896 |
| 2015-05-15 | 1.889 |
| 2015-05-18 | 1.871 |
| 2015-05-19 | 1.799 |
| 2015-05-20 | 1.805 |
| 2015-05-21 | 1.86 |
| 2015-05-22 | 1.846 |
| 2015-05-25 | 1.846 |
| 2015-05-26 | 1.794 |
| 2015-05-27 | 1.732 |
| 2015-05-28 | 1.766 |
| 2015-05-29 | 1.842 |
| 2015-06-01 | 1.815 |
| 2015-06-03 | 1.764 |
| 2015-06-04 | 1.716 |
| 2015-06-05 | 1.711 |
| 2015-06-08 | 1.692 |
| 2015-06-09 | 1.757 |
| 2015-06-10 | 1.776 |
| 2015-06-11 | 1.767 |
| 2015-06-12 | 1.74 |
| 2015-06-15 | 1.719 |
| 2015-06-16 | 1.729 |
| 2015-06-17 | 1.75 |
| 2015-06-18 | 1.765 |
| 2015-06-19 | 1.698 |
| 2015-06-22 | 1.669 |
| 2015-06-23 | 1.716 |
| 2015-06-24 | 1.708 |
| 2015-06-25 | 1.69 |
| 2015-06-26 | 1.706 |
| 2015-06-29 | 1.678 |
| 2015-07-01 | 1.685 |
| 2015-07-02 | 1.695 |
| 2015-07-03 | 1.695 |
| 2015-07-06 | 1.581 |
| 2015-07-08 | 1.566 |
| 2015-07-09 | 1.577 |
| 2015-07-10 | 1.568 |
| 2015-07-13 | 1.566 |
| 2015-07-14 | 1.575 |
| 2015-07-15 | 1.525 |
| 2015-07-16 | 1.515 |
| 2015-07-17 | 1.507 |
| 2015-07-20 | 1.499 |
| 2015-07-22 | 1.53 |
| 2015-07-23 | 1.533 |
| 2015-07-24 | 1.511 |
| 2015-07-27 | 1.464 |
| 2015-07-28 | 1.485 |
| 2015-07-29 | 1.486 |
| 2015-07-30 | 1.475 |
| 2015-07-31 | 1.455 |
| 2015-08-03 | 1.405 |
| 2015-08-04 | 1.431 |
| 2015-08-05 | 1.417 |
| 2015-08-06 | 1.428 |
| 2015-08-07 | 1.412 |
| 2015-08-10 | 1.456 |
| 2015-08-11 | 1.433 |
| 2015-08-12 | 1.456 |
| 2015-08-13 | 1.437 |
| 2015-08-14 | 1.415 |
| 2015-08-17 | 1.416 |
| 2015-08-18 | 1.39 |
| 2015-08-19 | 1.35 |
| 2015-08-20 | 1.352 |
| 2015-08-21 | 1.322 |
| 2015-08-24 | 1.256 |
| 2015-08-26 | 1.247 |
| 2015-08-27 | 1.358 |
| 2015-08-28 | 1.443 |
| 2015-08-31 | 1.502 |
| 2015-09-01 | 1.402 |
| 2015-09-02 | 1.453 |
| 2015-09-03 | 1.465 |
| 2015-09-04 | 1.43 |
| 2015-09-08 | 1.426 |
| 2015-09-09 | 1.383 |
| 2015-09-10 | 1.417 |
| 2015-09-11 | 1.395 |
| 2015-09-14 | 1.355 |
| 2015-09-15 | 1.338 |
| 2015-09-16 | 1.392 |
| 2015-09-17 | 1.377 |
| 2015-09-18 | 1.317 |
| 2015-09-21 | 1.353 |
| 2015-09-23 | 1.366 |
| 2015-09-24 | 1.415 |
| 2015-09-25 | 1.408 |
| 2015-09-28 | 1.367 |
| 2015-09-29 | 1.393 |
| 2015-09-30 | 1.422 |
| 2015-10-01 | 1.403 |
| 2015-10-02 | 1.407 |
| 2015-10-05 | 1.437 |
| 2015-10-07 | 1.449 |
| 2015-10-08 | 1.474 |
| 2015-10-09 | 1.445 |
| 2015-10-12 | 1.372 |
| 2015-10-13 | 1.34 |
| 2015-10-14 | 1.341 |
| 2015-10-15 | 1.358 |
| 2015-10-16 | 1.358 |
| 2015-10-19 | 1.34 |
| 2015-10-20 | 1.333 |
| 2015-10-21 | 1.346 |
| 2015-10-22 | 1.39 |
| 2015-10-23 | 1.389 |
| 2015-10-26 | 1.353 |
| 2015-10-28 | 1.407 |
| 2015-10-28 | 1.407 |
| 2015-10-29 | 1.386 |
| 2015-10-29 | 1.386 |
| 2015-10-30 | 1.431 |
| 2015-10-30 | 1.431 |
| 2015-11-02 | 1.412 |
| 2015-11-03 | 1.46 |
| 2015-11-04 | 1.427 |
| 2015-11-05 | 1.407 |
| 2015-11-06 | 1.422 |
| 2015-11-09 | 1.403 |
| 2015-11-10 | 1.382 |
| 2015-11-11 | 1.342 |
| 2015-11-12 | 1.306 |
| 2015-11-13 | 1.279 |
| 2015-11-16 | 1.283 |
| 2015-11-17 | 1.267 |
| 2015-11-18 | 1.282 |
| 2015-11-19 | 1.273 |
| 2015-11-20 | 1.251 |
| 2015-11-23 | 1.264 |
| 2015-11-25 | 1.303 |
| 2015-11-27 | 1.258 |
| 2015-11-30 | 1.237 |
| 2015-12-01 | 1.244 |
| 2015-12-02 | 1.19 |
| 2015-12-03 | 1.236 |
| 2015-12-04 | 1.221 |
| 2015-12-07 | 1.2 |
| 2015-12-08 | 1.179 |
| 2015-12-09 | 1.161 |
| 2015-12-10 | 1.131 |
| 2015-12-11 | 1.035 |
| 2015-12-14 | 0.996 |
| 2015-12-15 | 1.016 |
| 2015-12-16 | 0.997 |
| 2015-12-17 | 1.002 |
| 2015-12-18 | 1.023 |
| 2015-12-21 | 1.009 |
| 2015-12-22 | 1.013 |
| 2015-12-23 | 1.055 |
| 2015-12-24 | 1.035 |
| 2015-12-28 | 1.013 |
| 2015-12-29 | 1.052 |
| 2015-12-30 | 1.019 |
| 2015-12-31 | 1.026 |
| 2016-01-02 | 0.974 |
| 2016-01-04 | 1.039 |
| 2016-01-05 | 1.035 |
| 2016-01-06 | 0.994 |
| 2016-01-07 | 0.972 |
| 2016-01-08 | 0.954 |
| 2016-01-11 | 0.925 |
| 2016-01-13 | 0.887 |
| 2016-01-14 | 0.903 |
| 2016-01-15 | 0.868 |
| 2016-01-19 | 0.849 |
| 2016-01-20 | 0.804 |
| 2016-01-21 | 0.835 |
| 2016-01-22 | 0.912 |
| 2016-01-25 | 0.865 |
| 2016-01-27 | 0.963 |
| 2016-01-28 | 0.995 |
| 2016-01-29 | 1.013 |
| 2016-02-01 | 0.974 |
| 2016-02-02 | 0.936 |
| 2016-02-03 | 1.047 |
| 2016-02-04 | 1.041 |
| 2016-02-05 | 1.024 |
| 2016-02-08 | 1.018 |
| 2016-02-09 | 0.946 |
| 2016-02-10 | 0.925 |
| 2016-02-11 | 0.945 |
| 2016-02-12 | 1.002 |
| 2016-02-16 | 0.954 |
| 2016-02-17 | 1.008 |
| 2016-02-18 | 1.001 |
| 2016-02-19 | 0.957 |
| 2016-02-22 | 0.949 |
| 2016-02-23 | 0.902 |
| 2016-02-24 | 0.934 |
| 2016-02-25 | 0.943 |
| 2016-02-26 | 0.935 |
| 2016-02-29 | 0.991 |
| 2016-03-02 | 0.998 |
| 2016-03-03 | 1.002 |
| 2016-03-04 | 1.048 |
| 2016-03-07 | 1.096 |
| 2016-03-08 | 1.072 |
| 2016-03-09 | 1.109 |
| 2016-03-10 | 1.09 |
| 2016-03-11 | 1.089 |
| 2016-03-14 | 1.068 |
| 2016-03-15 | 1.054 |
| 2016-03-16 | 1.105 |
| 2016-03-17 | 1.126 |
| 2016-03-18 | 1.11 |
| 2016-03-21 | 1.101 |
| 2016-03-23 | 1.095 |
| 2016-03-24 | 1.064 |
| 2016-03-28 | 1.061 |
| 2016-03-29 | 1.012 |
| 2016-03-30 | 1.028 |
| 2016-03-31 | 1.056 |
| 2016-04-01 | 1.005 |
| 2016-04-04 | 0.967 |
| 2016-04-06 | 1.045 |
| 2016-04-07 | 1.036 |
| 2016-04-08 | 1.098 |
| 2016-04-11 | 1.12 |
| 2016-04-12 | 1.18 |
| 2016-04-13 | 1.166 |
| 2016-04-14 | 1.158 |
| 2016-04-15 | 1.112 |
| 2016-04-18 | 1.119 |
| 2016-04-19 | 1.154 |
| 2016-04-20 | 1.217 |
| 2016-04-21 | 1.185 |
| 2016-04-22 | 1.177 |
| 2016-04-25 | 1.175 |
| 2016-04-26 | 1.207 |
| 2016-04-27 | 1.251 |
| 2016-04-28 | 1.397 |
| 2016-04-29 | 1.377 |
| 2016-05-02 | 1.213 |
| 2016-05-04 | 1.202 |
| 2016-05-05 | 1.203 |
| 2016-05-06 | 1.209 |
| 2016-05-09 | 1.155 |
| 2016-05-10 | 1.213 |
| 2016-05-11 | 1.264 |
| 2016-05-12 | 1.262 |
| 2016-05-13 | 1.29 |
| 2016-05-16 | 1.329 |
| 2016-05-17 | 1.357 |
| 2016-05-18 | 1.362 |
| 2016-05-19 | 1.358 |
| 2016-05-20 | 1.378 |
| 2016-05-23 | 1.363 |
| 2016-05-24 | 1.375 |
| 2016-05-25 | 1.383 |
| 2016-05-26 | 1.367 |
| 2016-05-27 | 1.37 |
| 2016-05-31 | 1.36 |
| 2016-06-01 | 1.373 |
| 2016-06-02 | 1.378 |
| 2016-06-03 | 1.362 |
| 2016-06-06 | 1.375 |
| 2016-06-08 | 1.454 |
| 2016-06-09 | 1.424 |
| 2016-06-10 | 1.392 |
| 2016-06-13 | 1.381 |
| 2016-06-14 | 1.374 |
| 2016-06-15 | 1.349 |
| 2016-06-16 | 1.304 |
| 2016-06-17 | 1.366 |
| 2016-06-20 | 1.4 |
| 2016-06-21 | 1.395 |
| 2016-06-22 | 1.384 |
| 2016-06-23 | 1.407 |
| 2016-06-24 | 1.349 |
| 2016-06-27 | 1.326 |
| 2016-06-28 | 1.358 |
| 2016-06-29 | 1.441 |
| 2016-06-30 | 1.396 |
| 2016-07-01 | 1.424 |
| 2016-07-05 | 1.358 |
| 2016-07-06 | 1.364 |
| 2016-07-07 | 1.302 |
| 2016-07-08 | 1.302 |
| 2016-07-11 | 1.303 |
| 2016-07-13 | 1.279 |
| 2016-07-14 | 1.288 |
| 2016-07-15 | 1.251 |
| 2016-07-18 | 1.242 |
| 2016-07-19 | 1.255 |
| 2016-07-20 | 1.277 |
| 2016-07-21 | 1.239 |
| 2016-07-22 | 1.231 |
| 2016-07-25 | 1.192 |
| 2016-07-26 | 1.192 |
| 2016-07-27 | 1.163 |
| 2016-07-28 | 1.142 |
| 2016-07-29 | 1.144 |
| 2016-08-01 | 1.133 |
| 2016-08-02 | 1.131 |
| 2016-08-03 | 1.156 |
| 2016-08-04 | 1.18 |
| 2016-08-05 | 1.193 |
| 2016-08-08 | 1.213 |
| 2016-08-10 | 1.185 |
| 2016-08-11 | 1.249 |
| 2016-08-12 | 1.283 |
| 2016-08-15 | 1.321 |
| 2016-08-16 | 1.333 |
| 2016-08-17 | 1.361 |
| 2016-08-18 | 1.396 |
| 2016-08-19 | 1.384 |
| 2016-08-22 | 1.355 |
| 2016-08-23 | 1.37 |
| 2016-08-24 | 1.403 |
| 2016-08-25 | 1.424 |
| 2016-08-26 | 1.412 |
| 2016-08-29 | 1.4 |
| 2016-08-30 | 1.384 |
| 2016-08-31 | 1.327 |
| 2016-09-01 | 1.274 |
| 2016-09-02 | 1.278 |
| 2016-09-05 | 1.278 |
| 2016-09-06 | 1.296 |
| 2016-09-08 | 1.373 |
| 2016-09-09 | 1.327 |
| 2016-09-12 | 1.332 |
| 2016-09-13 | 1.319 |
| 2016-09-14 | 1.282 |
| 2016-09-15 | 1.306 |
| 2016-09-16 | 1.298 |
| 2016-09-19 | 1.284 |
| 2016-09-20 | 1.286 |
| 2016-09-21 | 1.32 |
| 2016-09-22 | 1.337 |
| 2016-09-23 | 1.299 |
| 2016-09-26 | 1.324 |
| 2016-09-27 | 1.297 |
| 2016-09-28 | 1.369 |
| 2016-09-29 | 1.397 |
| 2016-09-30 | 1.418 |
| 2016-10-03 | 1.451 |
| 2016-10-04 | 1.445 |
| 2016-10-05 | 1.467 |
| 2016-10-06 | 1.49 |
| 2016-10-07 | 1.465 |
| 2016-10-10 | 1.465 |
| 2016-10-11 | 1.479 |
| 2016-10-12 | 1.46 |
| 2016-10-13 | 1.468 |
| 2016-10-14 | 1.46 |
| 2016-10-17 | 1.447 |
| 2016-10-18 | 1.462 |
| 2016-10-19 | 1.473 |
| 2016-10-20 | 1.451 |
| 2016-10-21 | 1.466 |
| 2016-10-24 | 1.469 |
| 2016-10-25 | 1.45 |
| 2016-10-26 | 1.441 |
| 2016-10-27 | 1.456 |
| 2016-10-28 | 1.436 |
| 2016-10-31 | 1.395 |
| 2016-11-01 | 1.412 |
| 2016-11-02 | 1.362 |
| 2016-11-03 | 1.346 |
| 2016-11-04 | 1.324 |
| 2016-11-07 | 1.335 |
| 2016-11-08 | 1.325 |
| 2016-11-09 | 1.336 |
| 2016-11-10 | 1.32 |
| 2016-11-11 | 1.28 |
| 2016-11-14 | 1.272 |
| 2016-11-15 | 1.33 |
| 2016-11-16 | 1.313 |
| 2016-11-17 | 1.321 |
| 2016-11-18 | 1.339 |
| 2016-11-21 | 1.413 |
| 2016-11-22 | 1.409 |
| 2016-11-23 | 1.4 |
| 2016-11-25 | 1.4 |
| 2016-11-28 | 1.391 |
| 2016-11-29 | 1.351 |
| 2016-11-30 | 1.444 |
| 2016-12-01 | 1.484 |
| 2016-12-02 | 1.497 |
| 2016-12-05 | 1.488 |
| 2016-12-06 | 1.476 |
| 2016-12-07 | 1.371 |
| 2016-12-08 | 1.436 |
| 2016-12-09 | 1.451 |
| 2016-12-12 | 1.482 |
| 2016-12-13 | 1.485 |
| 2016-12-14 | 1.481 |
| 2016-12-15 | 1.478 |
| 2016-12-16 | 1.51 |
| 2016-12-19 | 1.5 |
| 2016-12-20 | 1.508 |
| 2016-12-21 | 1.468 |
| 2016-12-22 | 1.483 |
| 2016-12-23 | 1.519 |
| 2016-12-27 | 1.543 |
| 2016-12-28 | 1.534 |
| 2016-12-29 | 1.545 |
| 2016-12-30 | 1.552 |
| 2017-01-03 | 1.528 |
| 2017-01-04 | 1.534 |
| 2017-01-05 | 1.541 |
| 2017-01-06 | 1.542 |
| 2017-01-09 | 1.481 |
| 2017-01-10 | 1.464 |
| 2017-01-11 | 1.51 |
| 2017-01-12 | 1.544 |
| 2017-01-13 | 1.529 |
| 2017-01-17 | 1.514 |
| 2017-01-18 | 1.484 |
| 2017-01-19 | 1.486 |
| 2017-01-20 | 1.511 |
| 2017-01-23 | 1.516 |
| 2017-01-24 | 1.522 |
| 2017-01-25 | 1.503 |
| 2017-01-26 | 1.526 |
| 2017-01-27 | 1.498 |
| 2017-01-30 | 1.493 |
| 2017-01-31 | 1.5 |
| 2017-02-01 | 1.536 |
| 2017-02-02 | 1.525 |
| 2017-02-03 | 1.534 |
| 2017-02-06 | 1.508 |
| 2017-02-07 | 1.493 |
| 2017-02-08 | 1.504 |
| 2017-02-09 | 1.558 |
| 2017-02-10 | 1.581 |
| 2017-02-13 | 1.551 |
| 2017-02-14 | 1.555 |
| 2017-02-15 | 1.55 |
| 2017-02-16 | 1.548 |
| 2017-02-17 | 1.557 |
| 2017-02-21 | 1.577 |
| 2017-02-22 | 1.562 |
| 2017-02-23 | 1.587 |
| 2017-02-24 | 1.549 |
| 2017-02-27 | 1.562 |
| 2017-02-28 | 1.555 |
| 2017-03-01 | 1.531 |
| 2017-03-02 | 1.488 |
| 2017-03-03 | 1.499 |
| 2017-03-06 | 1.527 |
| 2017-03-07 | 1.532 |
| 2017-03-08 | 1.48 |
| 2017-03-09 | 1.458 |
| 2017-03-10 | 1.427 |
| 2017-03-13 | 1.396 |
| 2017-03-14 | 1.396 |
| 2017-03-15 | 1.41 |
| 2017-03-16 | 1.399 |
| 2017-03-17 | 1.404 |
| 2017-03-20 | 1.41 |
| 2017-03-21 | 1.412 |
| 2017-03-22 | 1.406 |
| 2017-03-23 | 1.402 |
| 2017-03-24 | 1.416 |
| 2017-03-27 | 1.412 |
| 2017-03-28 | 1.433 |
| 2017-03-29 | 1.455 |
| 2017-03-30 | 1.473 |
| 2017-03-31 | 1.481 |
| 2017-04-03 | 1.471 |
| 2017-04-04 | 1.51 |
| 2017-04-05 | 1.511 |
| 2017-04-06 | 1.528 |
| 2017-04-07 | 1.543 |
| 2017-04-10 | 1.563 |
| 2017-04-11 | 1.566 |
| 2017-04-12 | 1.563 |
| 2017-04-13 | 1.573 |
| 2017-04-17 | 1.56 |
| 2017-04-18 | 1.539 |
| 2017-04-19 | 1.499 |
| 2017-04-20 | 1.492 |
| 2017-04-21 | 1.466 |
| 2017-04-24 | 1.455 |
| 2017-04-25 | 1.47 |
| 2017-04-26 | 1.45 |
| 2017-04-27 | 1.438 |
| 2017-04-28 | 1.425 |
| 2017-05-01 | 1.408 |
| 2017-05-02 | 1.376 |
| 2017-05-03 | 1.372 |
| 2017-05-04 | 1.314 |
| 2017-05-05 | 1.352 |
| 2017-05-08 | 1.357 |
| 2017-05-09 | 1.34 |
| 2017-05-10 | 1.373 |
| 2017-05-11 | 1.387 |
| 2017-05-12 | 1.386 |
| 2017-05-15 | 1.398 |
| 2017-05-16 | 1.403 |
| 2017-05-17 | 1.424 |
| 2017-05-18 | 1.435 |
| 2017-05-19 | 1.473 |
| 2017-05-22 | 1.489 |
| 2017-05-23 | 1.498 |
| 2017-05-24 | 1.499 |
| 2017-05-25 | 1.445 |
| 2017-05-26 | 1.459 |
| 2017-05-30 | 1.44 |
| 2017-05-31 | 1.398 |
| 2017-06-01 | 1.367 |
| 2017-06-02 | 1.356 |
| 2017-06-05 | 1.323 |
| 2017-06-06 | 1.332 |
| 2017-06-07 | 1.281 |
| 2017-06-08 | 1.282 |
| 2017-06-09 | 1.291 |
| 2017-06-12 | 1.288 |
| 2017-06-14 | 1.275 |
| 2017-06-15 | 1.28 |
| 2017-06-16 | 1.293 |
| 2017-06-19 | 1.277 |
| 2017-06-20 | 1.268 |
| 2017-06-21 | 1.242 |
| 2017-06-22 | 1.251 |
| 2017-06-23 | 1.236 |
| 2017-06-26 | 1.252 |
| 2017-06-27 | 1.284 |
| 2017-06-28 | 1.309 |
| 2017-06-29 | 1.327 |
| 2017-06-30 | 1.364 |
| 2017-07-05 | 1.351 |
| 2017-07-06 | 1.355 |
| 2017-07-07 | 1.328 |
| 2017-07-10 | 1.331 |
| 2017-07-11 | 1.355 |
| 2017-07-12 | 1.351 |
| 2017-07-13 | 1.369 |
| 2017-07-14 | 1.397 |
| 2017-07-17 | 1.377 |
| 2017-07-18 | 1.412 |
| 2017-07-19 | 1.46 |
| 2017-07-20 | 1.453 |
| 2017-07-21 | 1.424 |
| 2017-07-24 | 1.428 |
US Gulf Coast Jet Fuel - Updated Every Monday