Special Feature - Airline Economic Analysis 2016/2017
Value Carriers Change in Operating Revenue, Q2 2015/Q2 2016
Value airlines were able to produce total operating revenue growth during the second quarter 2016. The group increased quarterly revenue 3.8%, or $301 million. Both domestic (+4.0%) and international (+0.1%) operations produced year over year revenue gains in the second quarter 2016. The international region lagged behind domestic performance. International revenue represents only 5.5% of the total value airline operating revenue.

The above analysis is an excerpt from the 2016/2017 Airline Economic Analysis.
Airline Economic Analysis 2016/2017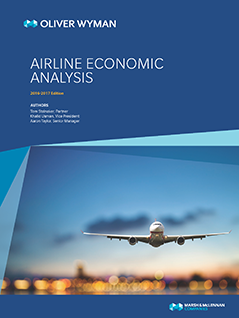 In recent years, the airline industry in the United States produced improved balance sheets, increased valuations, and generated 13 consecutive quarters of profitability with operating margins near or above 10% — all testament to the quality and discipline of the management of this hyper-competitive industry.

But just as domestic airlines are enjoying record profits, a patch of turbulence ahead could threatens to push them back into the price and capacity wars of years ago. The most compelling piece of evidence that cracks are developing in the industry's outwardly successful façade is the recent slide in quarterly revenue among US legacy carriers.

The culprit behind the decline is a familiar one: too much capacity coming online at discount prices when the economy is still growing in the low single digits. This trend has been particularly evident when it comes to routes between the US and Latin America, where value carriers have been aggressively expanding.

Luckily overall system costs have continued to decline for both network and value carriers with fuel being the primary driver. However, other key costs categories are likely to increase in coming quarters. Many carriers have inked new labor contracts during this highly profitable cycle and the effects of these agreements have yet to filter through to the numbers. Also some older aircraft fleets have a wave of life limited parts (LLPs) coming due on the horizon. Additionally, while jet fuel prices have remained lower relative to past years, the specter of higher prices looms in the distance after OPEC announced production cuts at the end of 2016.

Going into 2017, carriers will need to carefully manage a "right-sized" capacity environment and also make wise investment decisions to help differentiate their product and improve customer experience to capture market share. Fleet upgrades for newer, more efficient aircraft aid in this and also provide a counter to future fuel price escalation.
About the Report
In its 8th year, the 65-page report covers a range of aviation-specific industry data, including: CASM/RASM comparisons, stage-length adjusted and long-term trends, fuel prices, break-even load factors, and ancillary revenues. It also includes global capacity growth by region and a comparison of CASK/RASK for a select set of global carriers.

The report includes analyses on:
Revenue per available seat mile (RASM)
Passenger yield
Ancillary revenue
Stage-length adjusted revenue per available seat
Cost per available seat mile (CASM)
Labor cost
Jet fuel costs and labor costs
Profit margin data
Break-even load factors
US carrier capacity analysis
International carriers: Revenue per available seat kilometer (RASK) and cost per available seat kilometer (CASK)
Go To Report
Related Oliver Wyman Insights
Go to the Archives

PlaneStats.com by Oliver Wyman brings together reliable aviation data and a powerful collection of analytical tools that you can use to develop tangible insights.
PlaneStats.com
Oliver Wyman
Current Spot Fuel Price
| Date | Price |
| --- | --- |
| 2014-01-16 | 2.919 |
| 2014-01-17 | 2.924 |
| 2014-01-21 | 2.919 |
| 2014-01-22 | 2.906 |
| 2014-01-23 | 3.001 |
| 2014-01-24 | 2.94 |
| 2014-01-27 | 2.916 |
| 2014-01-28 | 2.935 |
| 2014-01-29 | 2.96 |
| 2014-01-30 | 2.955 |
| 2014-01-31 | 2.882 |
| 2014-02-03 | 2.885 |
| 2014-02-04 | 2.856 |
| 2014-02-05 | 2.854 |
| 2014-02-06 | 2.869 |
| 2014-02-07 | 2.942 |
| 2014-02-10 | 2.911 |
| 2014-02-11 | 2.958 |
| 2014-02-12 | 2.963 |
| 2014-02-13 | 3.007 |
| 2014-02-14 | 3.042 |
| 2014-02-18 | 3.074 |
| 2014-02-19 | 3.087 |
| 2014-02-20 | 3.074 |
| 2014-02-21 | 2.952 |
| 2014-02-24 | 2.999 |
| 2014-02-25 | 2.985 |
| 2014-02-26 | 2.996 |
| 2014-02-27 | 2.924 |
| 2014-02-28 | 2.955 |
| 2014-03-03 | 3.04 |
| 2014-03-04 | 2.993 |
| 2014-03-05 | 2.968 |
| 2014-03-06 | 2.979 |
| 2014-03-07 | 2.979 |
| 2014-03-10 | 2.939 |
| 2014-03-11 | 2.912 |
| 2014-03-12 | 2.873 |
| 2014-03-13 | 2.868 |
| 2014-03-14 | 2.882 |
| 2014-03-17 | 2.833 |
| 2014-03-18 | 2.841 |
| 2014-03-19 | 2.817 |
| 2014-03-20 | 2.834 |
| 2014-03-21 | 2.837 |
| 2014-03-24 | 2.825 |
| 2014-03-25 | 2.839 |
| 2014-03-26 | 2.834 |
| 2014-03-27 | 2.867 |
| 2014-03-28 | 2.878 |
| 2014-03-31 | 2.861 |
| 2014-04-01 | 2.809 |
| 2014-04-02 | 2.801 |
| 2014-04-03 | 2.845 |
| 2014-04-04 | 2.847 |
| 2014-04-07 | 2.826 |
| 2014-04-08 | 2.859 |
| 2014-04-09 | 2.89 |
| 2014-04-10 | 2.878 |
| 2014-04-11 | 2.86 |
| 2014-04-14 | 2.904 |
| 2014-04-15 | 2.919 |
| 2014-04-16 | 2.949 |
| 2014-04-17 | 2.951 |
| 2014-04-21 | 2.949 |
| 2014-04-22 | 2.952 |
| 2014-04-23 | 2.926 |
| 2014-04-24 | 2.941 |
| 2014-04-25 | 2.909 |
| 2014-04-28 | 2.878 |
| 2014-04-29 | 2.893 |
| 2014-04-30 | 2.86 |
| 2014-05-01 | 2.854 |
| 2014-05-02 | 2.862 |
| 2014-05-05 | 2.843 |
| 2014-05-06 | 2.821 |
| 2014-05-07 | 2.858 |
| 2014-05-08 | 2.849 |
| 2014-05-09 | 2.847 |
| 2014-05-12 | 2.86 |
| 2014-05-13 | 2.893 |
| 2014-05-14 | 2.909 |
| 2014-05-15 | 2.896 |
| 2014-05-16 | 2.889 |
| 2014-05-19 | 2.876 |
| 2014-05-20 | 2.884 |
| 2014-05-21 | 2.885 |
| 2014-05-22 | 2.889 |
| 2014-05-23 | 2.896 |
| 2014-05-27 | 2.88 |
| 2014-05-28 | 2.868 |
| 2014-05-29 | 2.849 |
| 2014-05-30 | 2.817 |
| 2014-06-02 | 2.805 |
| 2014-06-03 | 2.793 |
| 2014-06-04 | 2.779 |
| 2014-06-05 | 2.812 |
| 2014-06-06 | 2.807 |
| 2014-06-09 | 2.818 |
| 2014-06-10 | 2.8 |
| 2014-06-11 | 2.816 |
| 2014-06-12 | 2.905 |
| 2014-06-13 | 2.905 |
| 2014-06-16 | 2.915 |
| 2014-06-18 | 2.949 |
| 2014-06-19 | 2.964 |
| 2014-06-20 | 2.968 |
| 2014-06-23 | 2.954 |
| 2014-06-24 | 2.962 |
| 2014-06-25 | 2.95 |
| 2014-06-26 | 2.939 |
| 2014-06-27 | 2.897 |
| 2014-06-30 | 2.874 |
| 2014-07-01 | 2.858 |
| 2014-07-02 | 2.83 |
| 2014-07-03 | 2.817 |
| 2014-07-07 | 2.797 |
| 2014-07-08 | 2.775 |
| 2014-07-09 | 2.779 |
| 2014-07-10 | 2.817 |
| 2014-07-11 | 2.8 |
| 2014-07-14 | 2.809 |
| 2014-07-15 | 2.784 |
| 2014-07-16 | 2.793 |
| 2014-07-17 | 2.798 |
| 2014-07-18 | 2.785 |
| 2014-07-21 | 2.801 |
| 2014-07-23 | 2.835 |
| 2014-07-24 | 2.834 |
| 2014-07-25 | 2.864 |
| 2014-07-28 | 2.838 |
| 2014-07-29 | 2.859 |
| 2014-07-30 | 2.848 |
| 2014-07-31 | 2.846 |
| 2014-08-01 | 2.821 |
| 2014-08-04 | 2.828 |
| 2014-08-06 | 2.837 |
| 2014-08-07 | 2.868 |
| 2014-08-08 | 2.851 |
| 2014-08-11 | 2.861 |
| 2014-08-12 | 2.825 |
| 2014-08-13 | 2.878 |
| 2014-08-14 | 2.805 |
| 2014-08-15 | 2.831 |
| 2014-08-18 | 2.8 |
| 2014-08-19 | 2.809 |
| 2014-08-20 | 2.815 |
| 2014-08-21 | 2.828 |
| 2014-08-22 | 2.823 |
| 2014-08-25 | 2.834 |
| 2014-08-27 | 2.881 |
| 2014-08-28 | 2.881 |
| 2014-08-29 | 2.87 |
| 2014-09-02 | 2.816 |
| 2014-09-03 | 2.882 |
| 2014-09-04 | 2.855 |
| 2014-09-05 | 2.812 |
| 2014-09-08 | 2.802 |
| 2014-09-09 | 2.77 |
| 2014-09-10 | 2.751 |
| 2014-09-11 | 2.747 |
| 2014-09-12 | 2.731 |
| 2014-09-15 | 2.729 |
| 2014-09-16 | 2.719 |
| 2014-09-17 | 2.706 |
| 2014-09-18 | 2.68 |
| 2014-09-19 | 2.694 |
| 2014-09-22 | 2.664 |
| 2014-09-24 | 2.656 |
| 2014-09-25 | 2.661 |
| 2014-09-26 | 2.674 |
| 2014-09-29 | 2.675 |
| 2014-09-30 | 2.627 |
| 2014-10-01 | 2.636 |
| 2014-10-02 | 2.622 |
| 2014-10-03 | 2.57 |
| 2014-10-06 | 2.583 |
| 2014-10-07 | 2.539 |
| 2014-10-08 | 2.505 |
| 2014-10-09 | 2.449 |
| 2014-10-10 | 2.519 |
| 2014-10-13 | 2.486 |
| 2014-10-14 | 2.42 |
| 2014-10-15 | 2.402 |
| 2014-10-16 | 2.4 |
| 2014-10-17 | 2.432 |
| 2014-10-20 | 2.413 |
| 2014-10-21 | 2.432 |
| 2014-10-22 | 2.378 |
| 2014-10-23 | 2.406 |
| 2014-10-24 | 2.38 |
| 2014-10-27 | 2.366 |
| 2014-10-28 | 2.39 |
| 2014-10-29 | 2.43 |
| 2014-10-30 | 2.409 |
| 2014-10-31 | 2.424 |
| 2014-11-03 | 2.417 |
| 2014-11-05 | 2.385 |
| 2014-11-06 | 2.381 |
| 2014-11-07 | 2.416 |
| 2014-11-10 | 2.361 |
| 2014-11-11 | 2.357 |
| 2014-11-12 | 2.314 |
| 2014-11-13 | 2.245 |
| 2014-11-14 | 2.297 |
| 2014-11-17 | 2.268 |
| 2014-11-18 | 2.245 |
| 2014-11-19 | 2.244 |
| 2014-11-20 | 2.275 |
| 2014-11-21 | 2.299 |
| 2014-11-24 | 2.288 |
| 2014-11-25 | 2.256 |
| 2014-11-26 | 2.196 |
| 2014-11-28 | 2.026 |
| 2014-12-01 | 2.087 |
| 2014-12-02 | 2.027 |
| 2014-12-03 | 2.005 |
| 2014-12-04 | 2.024 |
| 2014-12-05 | 2.009 |
| 2014-12-08 | 1.942 |
| 2014-12-10 | 1.845 |
| 2014-12-11 | 1.842 |
| 2014-12-12 | 1.797 |
| 2014-12-15 | 1.762 |
| 2014-12-16 | 1.765 |
| 2014-12-17 | 1.799 |
| 2014-12-18 | 1.752 |
| 2014-12-19 | 1.729 |
| 2014-12-22 | 1.663 |
| 2014-12-24 | 1.634 |
| 2014-12-26 | 1.635 |
| 2014-12-29 | 1.547 |
| 2014-12-30 | 1.556 |
| 2014-12-31 | 1.666 |
| 2015-01-02 | 1.559 |
| 2015-01-05 | 1.508 |
| 2015-01-07 | 1.526 |
| 2015-01-08 | 1.536 |
| 2015-01-09 | 1.543 |
| 2015-01-12 | 1.422 |
| 2015-01-14 | 1.475 |
| 2015-01-15 | 1.451 |
| 2015-01-16 | 1.507 |
| 2015-01-20 | 1.478 |
| 2015-01-21 | 1.474 |
| 2015-01-22 | 1.486 |
| 2015-01-23 | 1.503 |
| 2015-01-26 | 1.497 |
| 2015-01-28 | 1.48 |
| 2015-01-29 | 1.474 |
| 2015-01-30 | 1.539 |
| 2015-02-02 | 1.647 |
| 2015-02-03 | 1.709 |
| 2015-02-04 | 1.653 |
| 2015-02-05 | 1.675 |
| 2015-02-06 | 1.714 |
| 2015-02-09 | 1.754 |
| 2015-02-10 | 1.712 |
| 2015-02-11 | 1.703 |
| 2015-02-12 | 1.8 |
| 2015-02-13 | 1.855 |
| 2015-02-17 | 1.788 |
| 2015-02-18 | 1.787 |
| 2015-02-19 | 1.754 |
| 2015-02-20 | 1.891 |
| 2015-02-23 | 1.844 |
| 2015-02-25 | 1.824 |
| 2015-02-26 | 1.889 |
| 2015-02-27 | 1.815 |
| 2015-03-02 | 1.726 |
| 2015-03-04 | 1.746 |
| 2015-03-05 | 1.747 |
| 2015-03-06 | 1.743 |
| 2015-03-09 | 1.699 |
| 2015-03-10 | 1.675 |
| 2015-03-11 | 1.66 |
| 2015-03-12 | 1.626 |
| 2015-03-13 | 1.561 |
| 2015-03-16 | 1.554 |
| 2015-03-17 | 1.536 |
| 2015-03-18 | 1.629 |
| 2015-03-19 | 1.563 |
| 2015-03-20 | 1.566 |
| 2015-03-23 | 1.566 |
| 2015-03-24 | 1.539 |
| 2015-03-25 | 1.554 |
| 2015-03-26 | 1.623 |
| 2015-03-27 | 1.563 |
| 2015-03-30 | 1.591 |
| 2015-03-31 | 1.567 |
| 2015-04-01 | 1.598 |
| 2015-04-02 | 1.544 |
| 2015-04-03 | 1.544 |
| 2015-04-06 | 1.614 |
| 2015-04-08 | 1.568 |
| 2015-04-09 | 1.603 |
| 2015-04-10 | 1.639 |
| 2015-04-13 | 1.655 |
| 2015-04-15 | 1.747 |
| 2015-04-16 | 1.777 |
| 2015-04-17 | 1.76 |
| 2015-04-20 | 1.741 |
| 2015-04-21 | 1.719 |
| 2015-04-23 | 1.779 |
| 2015-04-24 | 1.777 |
| 2015-04-27 | 1.764 |
| 2015-04-28 | 1.774 |
| 2015-04-29 | 1.796 |
| 2015-04-30 | 1.835 |
| 2015-05-01 | 1.86 |
| 2015-05-04 | 1.867 |
| 2015-05-06 | 1.904 |
| 2015-05-07 | 1.865 |
| 2015-05-08 | 1.86 |
| 2015-05-11 | 1.855 |
| 2015-05-12 | 1.883 |
| 2015-05-13 | 1.889 |
| 2015-05-14 | 1.896 |
| 2015-05-15 | 1.889 |
| 2015-05-18 | 1.871 |
| 2015-05-19 | 1.799 |
| 2015-05-20 | 1.805 |
| 2015-05-21 | 1.86 |
| 2015-05-22 | 1.846 |
| 2015-05-25 | 1.846 |
| 2015-05-26 | 1.794 |
| 2015-05-27 | 1.732 |
| 2015-05-28 | 1.766 |
| 2015-05-29 | 1.842 |
| 2015-06-01 | 1.815 |
| 2015-06-03 | 1.764 |
| 2015-06-04 | 1.716 |
| 2015-06-05 | 1.711 |
| 2015-06-08 | 1.692 |
| 2015-06-09 | 1.757 |
| 2015-06-10 | 1.776 |
| 2015-06-11 | 1.767 |
| 2015-06-12 | 1.74 |
| 2015-06-15 | 1.719 |
| 2015-06-16 | 1.729 |
| 2015-06-17 | 1.75 |
| 2015-06-18 | 1.765 |
| 2015-06-19 | 1.698 |
| 2015-06-22 | 1.669 |
| 2015-06-23 | 1.716 |
| 2015-06-24 | 1.708 |
| 2015-06-25 | 1.69 |
| 2015-06-26 | 1.706 |
| 2015-06-29 | 1.678 |
| 2015-07-01 | 1.685 |
| 2015-07-02 | 1.695 |
| 2015-07-03 | 1.695 |
| 2015-07-06 | 1.581 |
| 2015-07-08 | 1.566 |
| 2015-07-09 | 1.577 |
| 2015-07-10 | 1.568 |
| 2015-07-13 | 1.566 |
| 2015-07-14 | 1.575 |
| 2015-07-15 | 1.525 |
| 2015-07-16 | 1.515 |
| 2015-07-17 | 1.507 |
| 2015-07-20 | 1.499 |
| 2015-07-22 | 1.53 |
| 2015-07-23 | 1.533 |
| 2015-07-24 | 1.511 |
| 2015-07-27 | 1.464 |
| 2015-07-28 | 1.485 |
| 2015-07-29 | 1.486 |
| 2015-07-30 | 1.475 |
| 2015-07-31 | 1.455 |
| 2015-08-03 | 1.405 |
| 2015-08-04 | 1.431 |
| 2015-08-05 | 1.417 |
| 2015-08-06 | 1.428 |
| 2015-08-07 | 1.412 |
| 2015-08-10 | 1.456 |
| 2015-08-11 | 1.433 |
| 2015-08-12 | 1.456 |
| 2015-08-13 | 1.437 |
| 2015-08-14 | 1.415 |
| 2015-08-17 | 1.416 |
| 2015-08-18 | 1.39 |
| 2015-08-19 | 1.35 |
| 2015-08-20 | 1.352 |
| 2015-08-21 | 1.322 |
| 2015-08-24 | 1.256 |
| 2015-08-26 | 1.247 |
| 2015-08-27 | 1.358 |
| 2015-08-28 | 1.443 |
| 2015-08-31 | 1.502 |
| 2015-09-01 | 1.402 |
| 2015-09-02 | 1.453 |
| 2015-09-03 | 1.465 |
| 2015-09-04 | 1.43 |
| 2015-09-08 | 1.426 |
| 2015-09-09 | 1.383 |
| 2015-09-10 | 1.417 |
| 2015-09-11 | 1.395 |
| 2015-09-14 | 1.355 |
| 2015-09-15 | 1.338 |
| 2015-09-16 | 1.392 |
| 2015-09-17 | 1.377 |
| 2015-09-18 | 1.317 |
| 2015-09-21 | 1.353 |
| 2015-09-23 | 1.366 |
| 2015-09-24 | 1.415 |
| 2015-09-25 | 1.408 |
| 2015-09-28 | 1.367 |
| 2015-09-29 | 1.393 |
| 2015-09-30 | 1.422 |
| 2015-10-01 | 1.403 |
| 2015-10-02 | 1.407 |
| 2015-10-05 | 1.437 |
| 2015-10-07 | 1.449 |
| 2015-10-08 | 1.474 |
| 2015-10-09 | 1.445 |
| 2015-10-12 | 1.372 |
| 2015-10-13 | 1.34 |
| 2015-10-14 | 1.341 |
| 2015-10-15 | 1.358 |
| 2015-10-16 | 1.358 |
| 2015-10-19 | 1.34 |
| 2015-10-20 | 1.333 |
| 2015-10-21 | 1.346 |
| 2015-10-22 | 1.39 |
| 2015-10-23 | 1.389 |
| 2015-10-26 | 1.353 |
| 2015-10-28 | 1.407 |
| 2015-10-28 | 1.407 |
| 2015-10-29 | 1.386 |
| 2015-10-29 | 1.386 |
| 2015-10-30 | 1.431 |
| 2015-10-30 | 1.431 |
| 2015-11-02 | 1.412 |
| 2015-11-03 | 1.46 |
| 2015-11-04 | 1.427 |
| 2015-11-05 | 1.407 |
| 2015-11-06 | 1.422 |
| 2015-11-09 | 1.403 |
| 2015-11-10 | 1.382 |
| 2015-11-11 | 1.342 |
| 2015-11-12 | 1.306 |
| 2015-11-13 | 1.279 |
| 2015-11-16 | 1.283 |
| 2015-11-17 | 1.267 |
| 2015-11-18 | 1.282 |
| 2015-11-19 | 1.273 |
| 2015-11-20 | 1.251 |
| 2015-11-23 | 1.264 |
| 2015-11-25 | 1.303 |
| 2015-11-27 | 1.258 |
| 2015-11-30 | 1.237 |
| 2015-12-01 | 1.244 |
| 2015-12-02 | 1.19 |
| 2015-12-03 | 1.236 |
| 2015-12-04 | 1.221 |
| 2015-12-07 | 1.2 |
| 2015-12-08 | 1.179 |
| 2015-12-09 | 1.161 |
| 2015-12-10 | 1.131 |
| 2015-12-11 | 1.035 |
| 2015-12-14 | 0.996 |
| 2015-12-15 | 1.016 |
| 2015-12-16 | 0.997 |
| 2015-12-17 | 1.002 |
| 2015-12-18 | 1.023 |
| 2015-12-21 | 1.009 |
| 2015-12-22 | 1.013 |
| 2015-12-23 | 1.055 |
| 2015-12-24 | 1.035 |
| 2015-12-28 | 1.013 |
| 2015-12-29 | 1.052 |
| 2015-12-30 | 1.019 |
| 2015-12-31 | 1.026 |
| 2016-01-02 | 0.974 |
| 2016-01-04 | 1.039 |
| 2016-01-05 | 1.035 |
| 2016-01-06 | 0.994 |
| 2016-01-07 | 0.972 |
| 2016-01-08 | 0.954 |
| 2016-01-11 | 0.925 |
| 2016-01-13 | 0.887 |
| 2016-01-14 | 0.903 |
| 2016-01-15 | 0.868 |
| 2016-01-19 | 0.849 |
| 2016-01-20 | 0.804 |
| 2016-01-21 | 0.835 |
| 2016-01-22 | 0.912 |
| 2016-01-25 | 0.865 |
| 2016-01-27 | 0.963 |
| 2016-01-28 | 0.995 |
| 2016-01-29 | 1.013 |
| 2016-02-01 | 0.974 |
| 2016-02-02 | 0.936 |
| 2016-02-03 | 1.047 |
| 2016-02-04 | 1.041 |
| 2016-02-05 | 1.024 |
| 2016-02-08 | 1.018 |
| 2016-02-09 | 0.946 |
| 2016-02-10 | 0.925 |
| 2016-02-11 | 0.945 |
| 2016-02-12 | 1.002 |
| 2016-02-16 | 0.954 |
| 2016-02-17 | 1.008 |
| 2016-02-18 | 1.001 |
| 2016-02-19 | 0.957 |
| 2016-02-22 | 0.949 |
| 2016-02-23 | 0.902 |
| 2016-02-24 | 0.934 |
| 2016-02-25 | 0.943 |
| 2016-02-26 | 0.935 |
| 2016-02-29 | 0.991 |
| 2016-03-02 | 0.998 |
| 2016-03-03 | 1.002 |
| 2016-03-04 | 1.048 |
| 2016-03-07 | 1.096 |
| 2016-03-08 | 1.072 |
| 2016-03-09 | 1.109 |
| 2016-03-10 | 1.09 |
| 2016-03-11 | 1.089 |
| 2016-03-14 | 1.068 |
| 2016-03-15 | 1.054 |
| 2016-03-16 | 1.105 |
| 2016-03-17 | 1.126 |
| 2016-03-18 | 1.11 |
| 2016-03-21 | 1.101 |
| 2016-03-23 | 1.095 |
| 2016-03-24 | 1.064 |
| 2016-03-28 | 1.061 |
| 2016-03-29 | 1.012 |
| 2016-03-30 | 1.028 |
| 2016-03-31 | 1.056 |
| 2016-04-01 | 1.005 |
| 2016-04-04 | 0.967 |
| 2016-04-06 | 1.045 |
| 2016-04-07 | 1.036 |
| 2016-04-08 | 1.098 |
| 2016-04-11 | 1.12 |
| 2016-04-12 | 1.18 |
| 2016-04-13 | 1.166 |
| 2016-04-14 | 1.158 |
| 2016-04-15 | 1.112 |
| 2016-04-18 | 1.119 |
| 2016-04-19 | 1.154 |
| 2016-04-20 | 1.217 |
| 2016-04-21 | 1.185 |
| 2016-04-22 | 1.177 |
| 2016-04-25 | 1.175 |
| 2016-04-26 | 1.207 |
| 2016-04-27 | 1.251 |
| 2016-04-28 | 1.397 |
| 2016-04-29 | 1.377 |
| 2016-05-02 | 1.213 |
| 2016-05-04 | 1.202 |
| 2016-05-05 | 1.203 |
| 2016-05-06 | 1.209 |
| 2016-05-09 | 1.155 |
| 2016-05-10 | 1.213 |
| 2016-05-11 | 1.264 |
| 2016-05-12 | 1.262 |
| 2016-05-13 | 1.29 |
| 2016-05-16 | 1.329 |
| 2016-05-17 | 1.357 |
| 2016-05-18 | 1.362 |
| 2016-05-19 | 1.358 |
| 2016-05-20 | 1.378 |
| 2016-05-23 | 1.363 |
| 2016-05-24 | 1.375 |
| 2016-05-25 | 1.383 |
| 2016-05-26 | 1.367 |
| 2016-05-27 | 1.37 |
| 2016-05-31 | 1.36 |
| 2016-06-01 | 1.373 |
| 2016-06-02 | 1.378 |
| 2016-06-03 | 1.362 |
| 2016-06-06 | 1.375 |
| 2016-06-08 | 1.454 |
| 2016-06-09 | 1.424 |
| 2016-06-10 | 1.392 |
| 2016-06-13 | 1.381 |
| 2016-06-14 | 1.374 |
| 2016-06-15 | 1.349 |
| 2016-06-16 | 1.304 |
| 2016-06-17 | 1.366 |
| 2016-06-20 | 1.4 |
| 2016-06-21 | 1.395 |
| 2016-06-22 | 1.384 |
| 2016-06-23 | 1.407 |
| 2016-06-24 | 1.349 |
| 2016-06-27 | 1.326 |
| 2016-06-28 | 1.358 |
| 2016-06-29 | 1.441 |
| 2016-06-30 | 1.396 |
| 2016-07-01 | 1.424 |
| 2016-07-05 | 1.358 |
| 2016-07-06 | 1.364 |
| 2016-07-07 | 1.302 |
| 2016-07-08 | 1.302 |
| 2016-07-11 | 1.303 |
| 2016-07-13 | 1.279 |
| 2016-07-14 | 1.288 |
| 2016-07-15 | 1.251 |
| 2016-07-18 | 1.242 |
| 2016-07-19 | 1.255 |
| 2016-07-20 | 1.277 |
| 2016-07-21 | 1.239 |
| 2016-07-22 | 1.231 |
| 2016-07-25 | 1.192 |
| 2016-07-26 | 1.192 |
| 2016-07-27 | 1.163 |
| 2016-07-28 | 1.142 |
| 2016-07-29 | 1.144 |
| 2016-08-01 | 1.133 |
| 2016-08-02 | 1.131 |
| 2016-08-03 | 1.156 |
| 2016-08-04 | 1.18 |
| 2016-08-05 | 1.193 |
| 2016-08-08 | 1.213 |
| 2016-08-10 | 1.185 |
| 2016-08-11 | 1.249 |
| 2016-08-12 | 1.283 |
| 2016-08-15 | 1.321 |
| 2016-08-16 | 1.333 |
| 2016-08-17 | 1.361 |
| 2016-08-18 | 1.396 |
| 2016-08-19 | 1.384 |
| 2016-08-22 | 1.355 |
| 2016-08-23 | 1.37 |
| 2016-08-24 | 1.403 |
| 2016-08-25 | 1.424 |
| 2016-08-26 | 1.412 |
| 2016-08-29 | 1.4 |
| 2016-08-30 | 1.384 |
| 2016-08-31 | 1.327 |
| 2016-09-01 | 1.274 |
| 2016-09-02 | 1.278 |
| 2016-09-05 | 1.278 |
| 2016-09-06 | 1.296 |
| 2016-09-08 | 1.373 |
| 2016-09-09 | 1.327 |
| 2016-09-12 | 1.332 |
| 2016-09-13 | 1.319 |
| 2016-09-14 | 1.282 |
| 2016-09-15 | 1.306 |
| 2016-09-16 | 1.298 |
| 2016-09-19 | 1.284 |
| 2016-09-20 | 1.286 |
| 2016-09-21 | 1.32 |
| 2016-09-22 | 1.337 |
| 2016-09-23 | 1.299 |
| 2016-09-26 | 1.324 |
| 2016-09-27 | 1.297 |
| 2016-09-28 | 1.369 |
| 2016-09-29 | 1.397 |
| 2016-09-30 | 1.418 |
| 2016-10-03 | 1.451 |
| 2016-10-04 | 1.445 |
| 2016-10-05 | 1.467 |
| 2016-10-06 | 1.49 |
| 2016-10-07 | 1.465 |
| 2016-10-10 | 1.465 |
| 2016-10-11 | 1.479 |
| 2016-10-12 | 1.46 |
| 2016-10-13 | 1.468 |
| 2016-10-14 | 1.46 |
| 2016-10-17 | 1.447 |
| 2016-10-19 | 1.47 |
| 2016-10-20 | 1.45 |
| 2016-10-21 | 1.47 |
| 2016-10-24 | 1.47 |
| 2016-10-25 | 1.45 |
| 2016-10-26 | 1.44 |
| 2016-10-27 | 1.46 |
| 2016-10-28 | 1.44 |
| 2016-10-31 | 1.4 |
| 2016-11-01 | 1.41 |
| 2016-11-02 | 1.36 |
| 2016-11-03 | 1.35 |
| 2016-11-04 | 1.32 |
| 2016-11-07 | 1.34 |
| 2016-11-08 | 1.33 |
| 2016-11-09 | 1.34 |
| 2016-11-10 | 1.32 |
| 2016-11-11 | 1.28 |
| 2016-11-14 | 1.27 |
| 2016-11-15 | 1.33 |
| 2016-11-16 | 1.31 |
| 2016-11-17 | 1.32 |
| 2016-11-18 | 1.34 |
| 2016-11-21 | 1.41 |
| 2016-11-22 | 1.41 |
| 2016-11-23 | 1.4 |
| 2016-11-25 | 1.4 |
| 2016-11-28 | 1.39 |
| 2016-11-30 | 1.444 |
| 2016-12-01 | 1.484 |
| 2016-12-02 | 1.497 |
| 2016-12-05 | 1.488 |
| 2016-12-06 | 1.476 |
| 2016-12-07 | 1.371 |
| 2016-12-08 | 1.436 |
| 2016-12-09 | 1.451 |
| 2016-12-12 | 1.482 |
| 2016-12-13 | 1.485 |
| 2016-12-14 | 1.481 |
| 2016-12-15 | 1.478 |
| 2016-12-16 | 1.51 |
| 2016-12-19 | 1.5 |
| 2016-12-20 | 1.508 |
| 2016-12-21 | 1.468 |
| 2016-12-22 | 1.483 |
| 2016-12-23 | 1.519 |
| 2016-12-27 | 1.543 |
US Gulf Coast Jet Fuel - Updated Every Monday