2018 - 2028 Global Aircraft Demand
Special Feature: Global Fleet & MRO Market Forcast 2018 - 2028
The active global commercial fleet currently stands at 26,307 aircraft; the next 10 years will see 3.7 percent net annual growth, increasing the fleet to 37,978. The fleet is forecast to grow 4.2 percent annually over the first five years, then slow to 3.3 percent in the second five years as the rate of deliveries decreases and removals remain high. These dynamics will result in a fleet that is younger and larger in average seating capacity. The new fleet is expected to support RPK growth of nearly five percent as operators improve capacity management with the larger average seating capacity. By 2028, the average age of the active fleet will have decreased from 11.2 to 10.5 years, a significant reduction. Of nearly 20,700 aircraft deliveries, 44 percent will replace in-service aircraft a slight reduction from last year's forecast of 50 percent.

The above analysis is an excerpt from the Global Fleet & MRO Market Forcast 2018 - 2028.
Global Fleet & MRO Market Forcast 2018 - 2028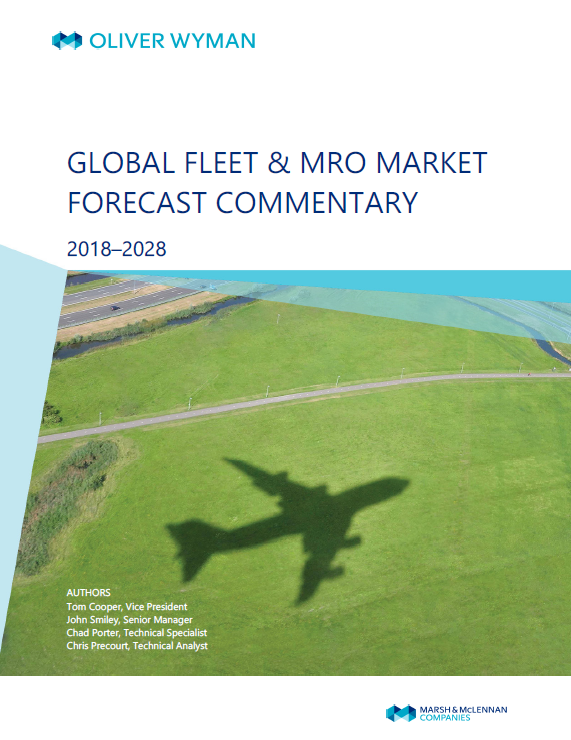 These are heydays for the commercial aviation industry as well as businesses supporting it from the maintenance, repair, and overhaul (MRO) sector. Rising demand for air travel is keeping production lines at aircraft, engine, and component manufacturers busy and setting records. Lower oil prices, along with the willingness of airlines to spend on upkeep, are resulting in delayed retirements of older jets, which in turn provide more business for the MRO industry because of their additional servicing needs.

The swelling demand continues to drive expansion of the global fleet. Where in our 2017–2027 forecast projected annual growth averaging 3.4 percent, our current outlook ratchets up that yearly increase to 3.7 percent. Inevitably, all this spells more business for the major aircraft manufacturers, pushing production rates to levels never seen before for commercial aircraft.

By 2028, our forecast projects the worldwide fleet will total 37,978 aircraft, up from the 2018 total of 26,307. Narrow-body aircraft will be the biggest beneficiary of this expansion, increasing from about 56 percent of the fleet in 2018 to 66 percent in 2028 thanks to operating costs, range, and capabilities that allow them to encroach on territory once reserved for wide-bodies.

About the Report
Oliver Wyman's Global Fleet & MRO Market Forecast Commentary 2018–2028 marks our firm's 18th assessment of the 10-year outlook for the commercial airline transport fleet and the associated maintenance, repair, and overhaul (MRO) market. We're proud to say that the annually produced research, along with our Airline Economic Analysis (AEA), has become a staple resource of aviation executives—whether in companies that build aircraft, fly them, or work in the aftermarket, as well as for those with financial interests in the sector through private equity firms and investment banks.

This research focuses on airline fleet growth and related trends affecting aftermarket demand, maintenance costs, technology, and labor supply. The outlook reveals significant changes that are important to understand when making business decisions and developing long-term plans.

Analytical topics covered include:

Economic GDP and traffic data (measured in revenue passenger kilometers or RPKs) by geographic region and specific countries
Historical financial performance (load factors vs return on invested capital, jet fuel spot prices, industry profitability)
In-service fleet, retirements, orders, conversions by aircraft class (wide-body, narrow-body, regional jet, and turboprop)
Global aircraft fleet forecast and regional fleet growth rates
MRO market forecast by segment (line, component, engine, airframe) and aircraft platform spend
Forecast sensitivity analysis


Go To Report


Related Oliver Wyman Insights
Go to the Archives

PlaneStats.com by Oliver Wyman brings together reliable aviation data and a powerful collection of analytical tools that you can use to develop tangible insights.
PlaneStats.com
Oliver Wyman