Widebody Deliveries By Aircraft Platform
Global Fleet & MRO Market Forecast Commentary, 2019–2029
Boeing's 787 series is the clear favorite among airlines in the widebody class and will dominate deliveries. The aircraft series will reach about a quarter of the widebody fleet by 2029. That represents a change from the current widebody breakdown in which Airbus' A330/A340 family and the Boeing 777 series each make up 26 percent of the fleet. The changeover, among other things, will create a significantly more fuel-efficient, high-tech fleet. Even though Airbus is introducing the A330neo widebody with a lower sticker price, improvements in operational costs and efficiencies offered by the 787, A350 and 777X are expected to ultimately outweigh the A330neo's acquisition cost. Order books already indicate that preference. There is speculation within the market that Airbus may produce a freighter version of the A330neo.
The above analysis is an excerpt from the Global Fleet & MRO Market Forcast 2019 - 2029.
Global Fleet & MRO Market Forcast 2019 - 2029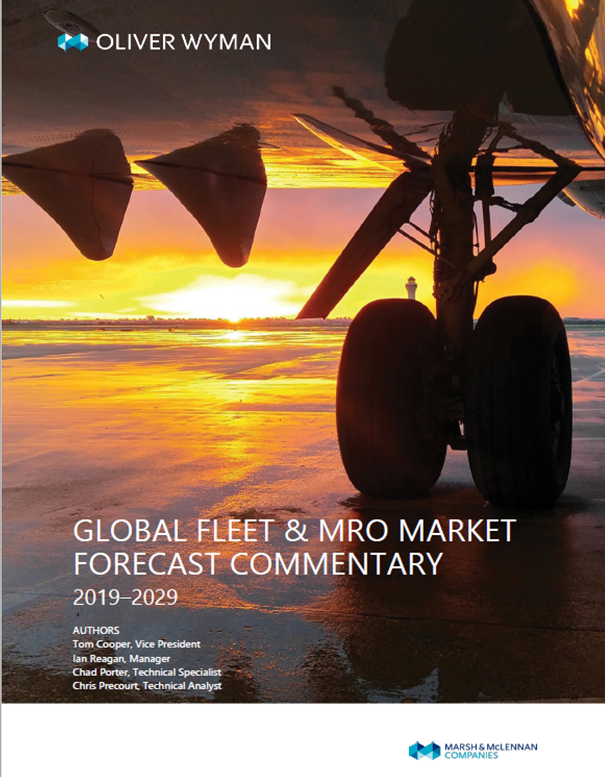 The aviation industry and the businesses that support it are experiencing another year of unparalleled growth, thanks to an expansion in the global population able to afford air travel. Rising incomes and consumer spending are pushing passenger travel to record levels and fueling the largest year-over-year increase of the in-service fleet since 2008.

Looking ahead a decade, air travel demand is anticipated to be equally robust, with an additional 200 million people expected to enter the middle class across the planet. Growth in revenue passenger kilometers (RPK) will regularly exceed the annual expansion of gross domestic product (GDP) in most economies—particularly in high-growth areas like China and India. Even amid global trade tensions, the projections for commercial air travel remain optimistic across all regions of the world.
About the Forecast
Oliver Wyman's Global Fleet & MRO Market Forecast Commentary 2019–2029 marks our firm's 19th assessment of the 10-year outlook for the commercial airline transport fleet and the associated maintenance, repair, and overhaul (MRO) market. We're proud that this annually produced research, along with our Airline Economic Analysis (AEA), has become a staple resource of aviation executives—whether in companies that build aircraft, fly them, or work in the aftermarket, as well as for those with financial interests in the sector through private equity firms and investment banks.
This research focuses on airline fleet growth and related trends affecting aftermarket demand, maintenance costs, technology, and labor supply. The outlook reveals significant changes that are important to understand when making business decisions and developing long-term plans.

Analytical topics covered include:

Economic GDP and traffic data (measured in revenue passenger kilometers or RPKs) by geographic region and specific countries
Historical financial performance (load factors vs return on invested capital, jet fuel spot prices, industry profitability)
Passenger and cargo traffic, and airport infrastructure growth in select markets
In-service fleet, retirements, orders, conversions by aircraft class (wide-body, narrow-body, regional jet, and turboprop)
Global aircraft fleet forecast and regional fleet growth rates
MRO market forecast by segment (line, component, engine, airframe) and aircraft platform spend
Forecast sensitivity analysis based on economic health, traffic, fuel prices, and interest rates


Go To Report











PlaneStats.com by Oliver Wyman brings together reliable aviation data and a powerful collection of analytical tools that you can use to develop tangible insights.
PlaneStats.com
Oliver Wyman